showcase comics weekly
so it is my frist time i talk about comics weekly in my frist showcase comics weekly. I talk about each week starting this week about the best of comics this week based upon my favorite books i read this week. These books are simply the best comics of this week of comic book reading.  I hope you enjoy my frist weekly showcase of comics for this week.
Detective Comics #994 review
We are closing in on yet another milestone issue after a year of milestone issues be it Action Comics, Thor, or Daredevil. Detective Comics is at issue #994 this week and will soon reach 1000 issues, being the second book to reach such a high number. With a milestone coming it's probably why writer Peter J. Tomasi is delivering a story that brings Batman back to his roots.
Tomasi is finally here!  I wish that DC would have given us an add like they did with Bendis since the reason Tomasi is writing Detective Comics is that Bendis snatched his Superman book from him. Tomasi continues by giving such wonderful batman comic writing with Detective Comics 994.  It has everything from detective work, kickass action, character moments and a cool new villain with the fact that it ties into the Wayne's deaths and also the crazy twist at the end made things even cooler. if you love batman you will simply adore this book.
The Verdict: 10/10:its a wonderful read 
 The Batman Who Laughs 01 review
Scott Snyder is bringing the Batman Who Laughs to the main DC Universe as , Bruce Wayne must come face to face with the nightmares spawned from the Dark Multiverse. Scott Snyder crafts out what may be one of the best works of comics he did on batman since he did the black mirror arc of batman. Scott Snyder Snyder gives such wonderful batman comic writing with wonderful action and character moments and a cool villain that returns to the universe as the batman crafts such a dark and twisted gem of a tale that any batman fan will adore to read from start to finish of this comic.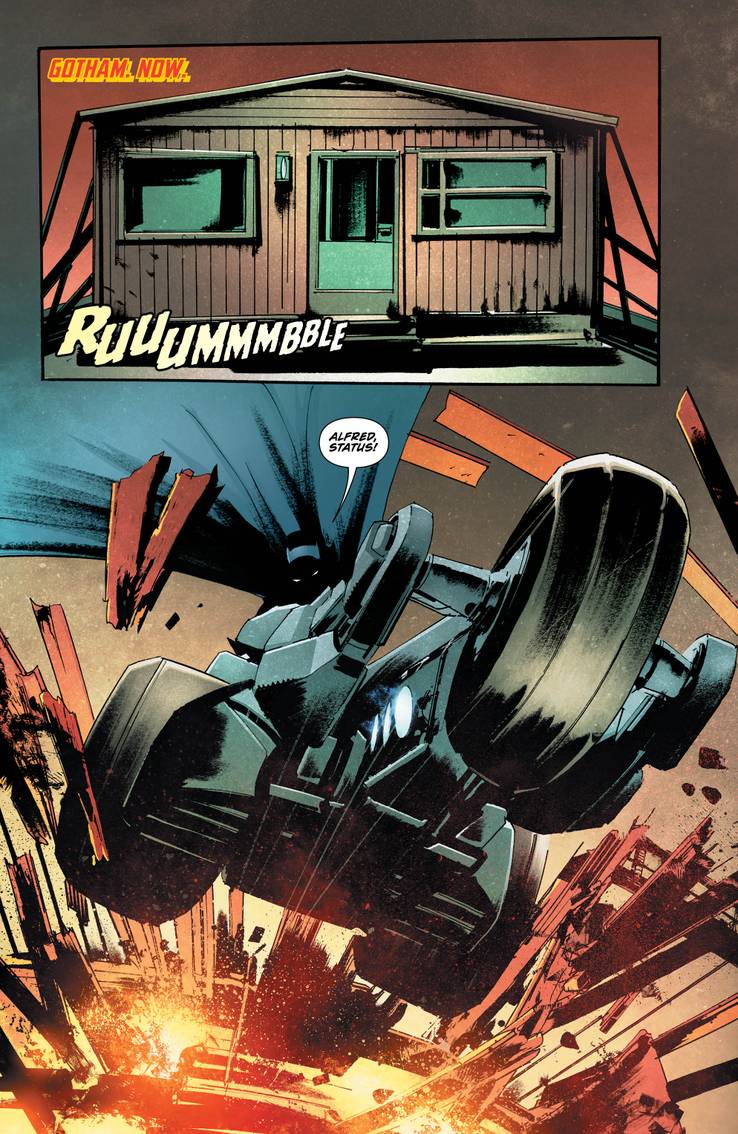 The Verdict: 10/10:its a wonderful read 
Batman Annual #3 Review
When you think about it Alfred doesn't get enough credit. He's basically necessary for Batman to exist at all or else he'd never eat, sleep, or get his gear in order. Alfred is the oil that keeps the engine greased and running and in Batman Annual #3 his struggle gets the focus thanks to writer Tom Taylor and artist Otto Schmidt give us such a story this week.
This issue begins and ends with Alfred's perspective, which is written beautifully by Tom Taylor.
The issue starts with Alfred getting the dreaded call that Thomas and Martha have been shot.  I usually roll my eyes the more and more we get this scene, but seeing it through Alfred's eyes makes it way more fresh the cores of batman's parents death.
Taylor does an exceptional job of capturing the love and care Alfred has for Bruce Wayne. He was a man of hopes and desires, but after that traumatic day his life, and Bruce's, were changed forever. This story depicts Alfred in a way that is caring beyond belief as we see how Alfred is such a caring guy for Bruce Wayne.  Taylor has crafted an interesting story focusing Batman's attention on a new villain which is quite clever. . It's an exciting adventure that comes with its own resolution and a solid foundation for Alfred to swoop in and be a hero himself.I've marveld at Schmidt's art over the years on Green Arrow and he continues to do a great job in this annual issue that is simply marvelous. A fantastic issue that may win an Eisner when all things are said and done. It's meaningful, heartfelt, and exciting. It's a near perfect one-shot Batman adventure that you should read.
The Verdict: 10/10:its a wonderful read 
FANTASTIC FOUR WEDDING SPECIAL #1 review
Love is in the air between our rocky love-bug, Thing, and his sweetheart, Alicia Reiss Masters. Marvel Comics is celebrating with a pre-wedding celebration in the form of this issue.
All three stories do well to capture different aspects of getting married and the stresses that come with it with three different writers capturing the stresses of marriage. The bachelorette opening written by Gail Simone with art by Laura Braga does a great job showcasing the weird nature of the pre-wedding party that simply is such a fun read. The second story is written by Dan Slott giving such a marvelous story of the thing asking for permission to wed Alicia and it's a curious scene, not unlike an interrogation scene. Dan Slott does a good job with this story. The last story is by Fred Hembeck with colors by Megan Wilson, focusing on the lament of the person Thing asked permission from. This is quite a fun comic strip style story. This comic is such a marvelous joy of a comic that captures the magic of the best of FANTASTIC FOUR.
The Verdict: 10/10:its a wonderful read 
Bitter Root #2 review
David F. Walker and Chuck Brown have some simply killer e killer dialogue and scripting in Bitter Root #2. It is exciting, poignant, and funny all at the same time. This issue was just a delight to read from beginning to end. Its simply a marvelous comic to read form start to finish. Bitter Root #2 delivers an exciting read and makes this series a must-read for anyone.
The Verdict: 10/10:its a wonderful read 
BLACK HAMMER: CTHU-LOUISE #1 review
A trip to the world of Black Hammer is always time well spent, doubly so when artist Emi Lenox is on board.  Black Hammer: Cthu-Louise #1 is a one-shot story about a cursed young girl struggling to find acceptance. It's like Carrie with tentacles, a sad tale that you just know won't end well. Louise is a deeply tragic character and her journey is expertly brought to life by Jeff Lemire in such a simply marvelous writing in this comic.. This is haunting stuff that adds another layer of awesomeness to the Black Hammer universe as simply a marvelous comic to read form start to finish.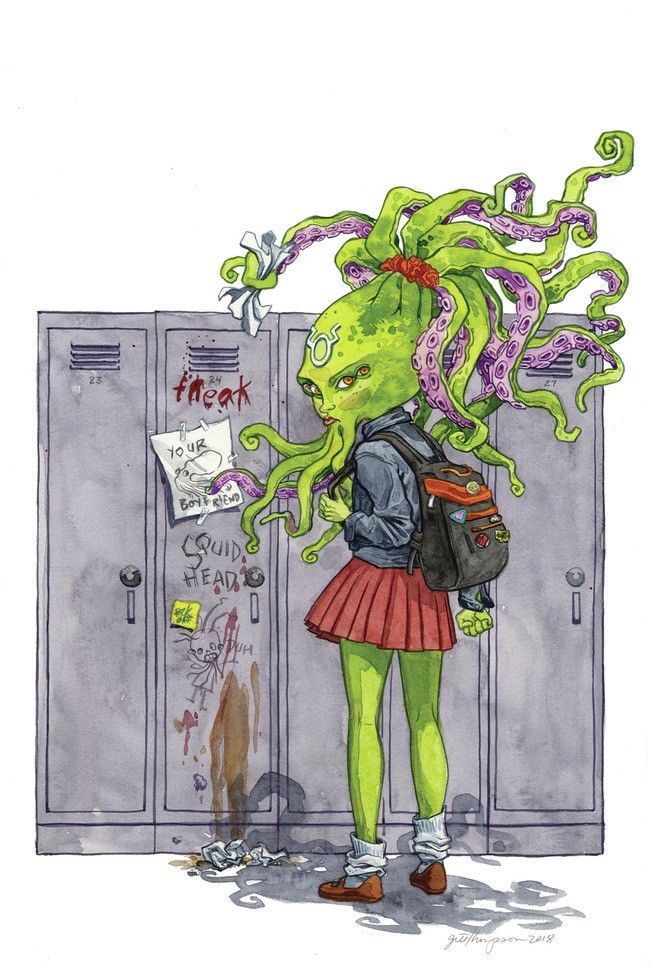 The Verdict: 10/10:its a wonderful read 
HELLBOY WINTER SPECIAL 2018 review
Rejoice, for it's the best time of year! It's that special season when families come together, snuggle by the fire, and read the Hellboy Winter Special. This annual anthology always sports a lineup of awesome creators and this year is no different. Mike Mignola, Fabio Moon, Gabriel Ba, Tonci Zonjic, Ben Stenbeck, and Dave freaking Stewart all grace these pages with magic and monsters. Whether you are a longtime Hellboy fan or a first-time visitor to the Mignolaverse, you'll have a blast reading this comic. It has all the action, humor with everything that is simply marvelous to read.
The Verdict: 10/10:its a wonderful read 
Hawkman #7 review
It's an approach very reminiscent of Grant Morrison's Batman and much like that run, it's a rich buffet of tonalities, genres and varying stories, all unified under a central theme that pervades all. It's an ambitious epic spanning all of time and space in the DC Universe.
Hawkman #7 builds on the foundations laid thus far in the title while unveiling an all new origin for the character. Venditti's always excelled at characters who have pasts that contrast immensely with who they are, from Aric in X-O Manowar to The Eternal Warrior and Hawkman proves to be a perfect fit for him. Though Hitch is very much the star of this title, doing arguably career best work at incredibly unbelievable speeds, he's creating a definitive take on the character that takes trough many worlds of the DC Universe. The creative team showcases such range and so many threads of possibility in Hawkman that it's truly exciting to even wonder about the wondrous legacy the team will leave on the franchise. It's an incredibly exciting time for hawkman as this could be the defined series that everyone looks upon for ages to come. Hawkman continues to surprise and delight, as ever. It is a title where anything is possible and it defies classification, much like its titular character that you simply should read today.
The Verdict: 10/10:its a wonderful read 
Welcome everyone that adores comics should It's new comic book day! But before you head to the local comic shop, arm yourself with a few recommendations based upon what is simply the best comics of this week of comics to read.